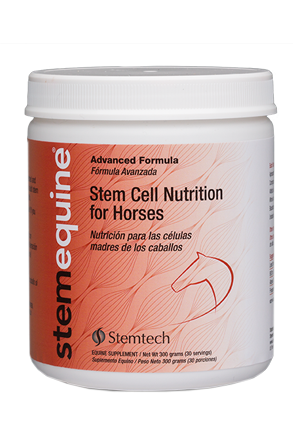 StemEquine® Advanced Formula is an all-natural stem cell enhancer for horses. This supplement is the specially formulated equine equivalent of our patented stem cell enhancer (AFA Concentrate) for humans, documented to support the natural release of adult stem cells from bone marrow.
A clinical study revealed that this extraordinary supplement increased the number of circulating adult stem cells by approximately 3-4 million. Simply add StemEquine Advanced Formula granules to your horses feed.
Natural Renewal
StemEquine Advanced Formula supports the release of adult stem cells from your horse's bone marrow. Adult stem cells play a key role in the natural renewal process. Their primary role is to maintain and repair tissue. Scientific studies have shown that increasing the number of circulating adult stem cells in the body is an important aspect to maintain optimal health.

We are proud to report that StemEquine Advanced Formula contains none of the listed forbidden substances outlined in the 2006 Drugs and Medications Guidelines developed by the United States Equine Federation.
Sign up for sales and PRODUCT NEWS!